I have summarized the theoretical research on my project The Infinite Narrative in an interactive theme cloud.
The books and lectures by Jonathan Gottschall, Lidewijde Paris, Will Storr and Andy Kirk have broadened and enriched my view on storytelling.
The presentations by Robert Gebeloff, Leon Fryszer, Max Harlow, Pierre Leibovici, Leila Haddou, Bridget Thoreson, Shirish Kulkarni and Linda Shaw gave me new food for thought.
In conversations with Maike Olij, Renée van der Nat and Tim Groot Kormelink, I received helpful suggestions and answers to my questions.
Hanneke Briër, Ania Molenda, Andrea Prins, Bas Lafleur, Hagen Mumm and Hannah Jansen gave me valuable tips for inspiration sources and tools.
In the meanwhile I started to translate my new gained knowledge into an interface design and webplatform combining System Design with Storytelling in order to facilitate the communication of complex journalistic stories.
For the design phase I am looking for interface designers and software engineers who would like to discuss my visual sketches. And if you are a storyteller, no matter what discipline, and interested in journalism and you would like to participate, let me know: studio@theworldasflatland.net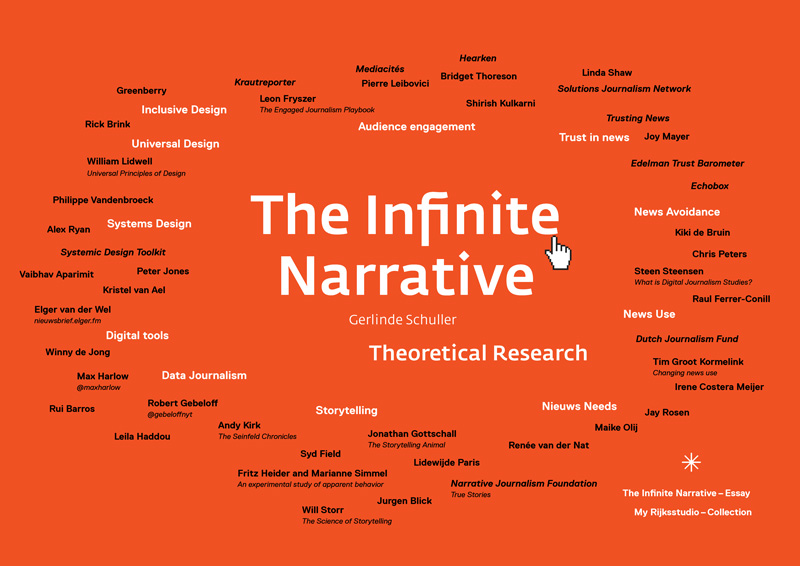 The Infinite Narrative – Theoretical Research
Open the PDF and click on the hyperlinks