The Infinite Narrative –
A systematic approach to complex stories
How can a complex story be effectively communicated?
This is the opening question of the research project which examines to what extent a synthesis of systems design and storytelling can facilitate and enrich the communication of complicated, multi-layered contents. To this end, the project will further develop and lay down my information design method Systematic Storytelling.
The challenge is to do justice to a high degree of complexity: a main theme with numerous secondary themes that are convoluted and interwoven, a variety of narrative formats, broad geographic coverage, long-term documentation, a nonlinear mode of reading, a broad range of international users, and a short response times.
The aim of the project is to develop new, nonlinear and network-like narrative structures and the attendant tools that support these structures in technological terms.
Further research questions:
–How can classification systems help to convey complex stories?
–How can the user be offered individual access to these stories?
–What can a nonlinear narrative structure look like for long-term documentation?
–How can different narrative forms be combined?
–How can the user easily switch between overviews and individual narrative forms?
–How can different narrative techniques be combined and how can they be encoded visually?
–To what extent can different narrative techniques be selected flexibly?
–What are the requirements for a web template that is suitable for customizing?

"The current narrative and display formats of media platforms are not geared to a high degree of complexity. More efficient presentation formats are required for adequate reporting on complex stories."

The project is funded by Creative Industries Fund NL
and Stichting GO Fonds.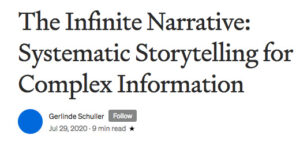 The Infinite Narrative – Essay
I describe the project in my essay The Infinite Narrative – Systematic Storytelling for Complex Information. It is published on Nightingale, the Journal of the Data Visualization Society (US).
Read the English article
Read the German version of the article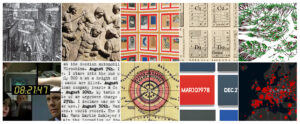 The Infinite Narrative – Analysis of inspiration sources at the intersection of system design and storytelling
I analysed 10 works from different disciplines, such as literature, art, information design, film, urban planning and data visualisation. Their concepts are based on a combination of system design and storytelling. I disassembled them into their conceptual components to find out how their systematic and storytelling-ingredients complement and enrich each other.
Link to analysis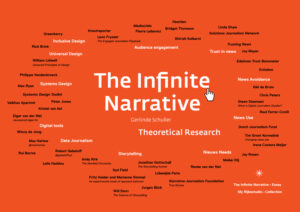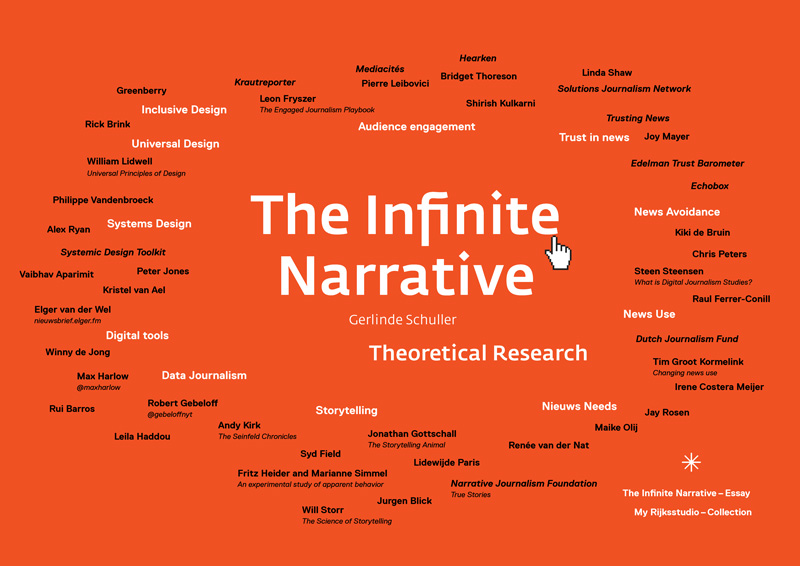 Open the PDF and click on the hyperlinks
The Infinite Narrative – Theoretical Research
I have summarized the theoretical research on the project in an interactive theme cloud.
_
_
Inspiration sources
at the intersection of systems design and storytelling