I developed the method Systematic Storytelling for communicating storylines of high complexity.
During the last half year I applied this method in two projects: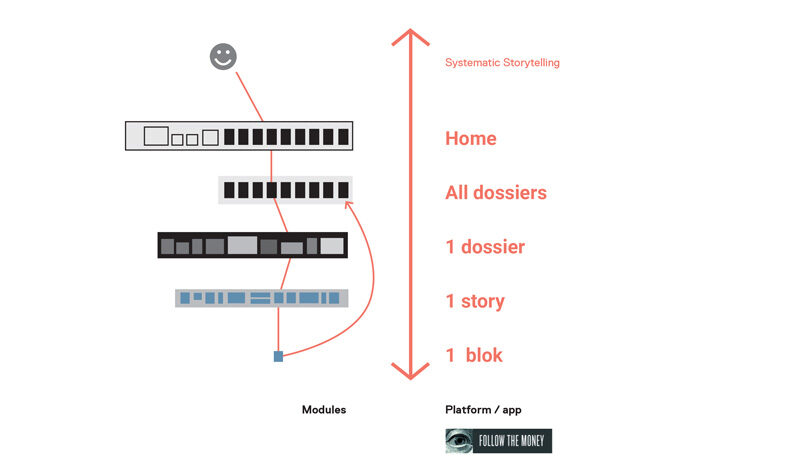 For Follow the Money, a team of investigative journalists (Amsterdam, NL), I worked out concepts to apply Systematic Storytelling to their web platform and app to improve navigation and user experience.
In addition, I drafted new ideas for data-oriented and used-oriented features.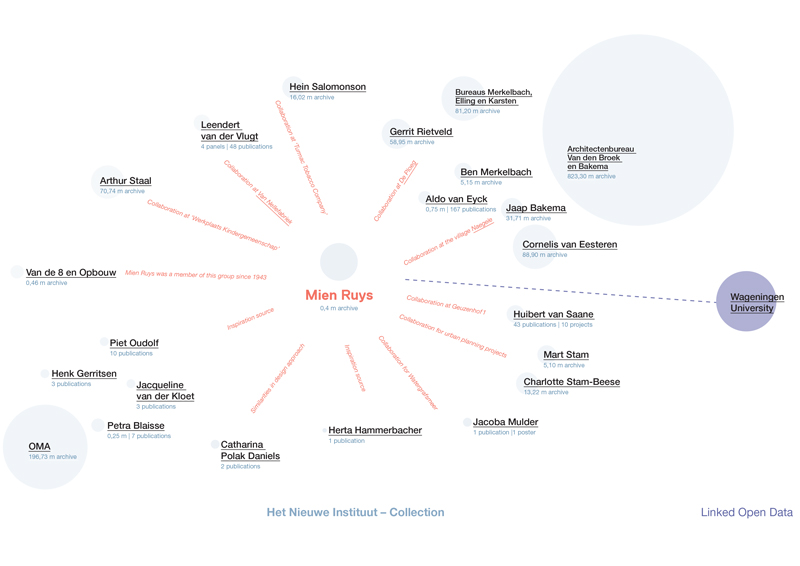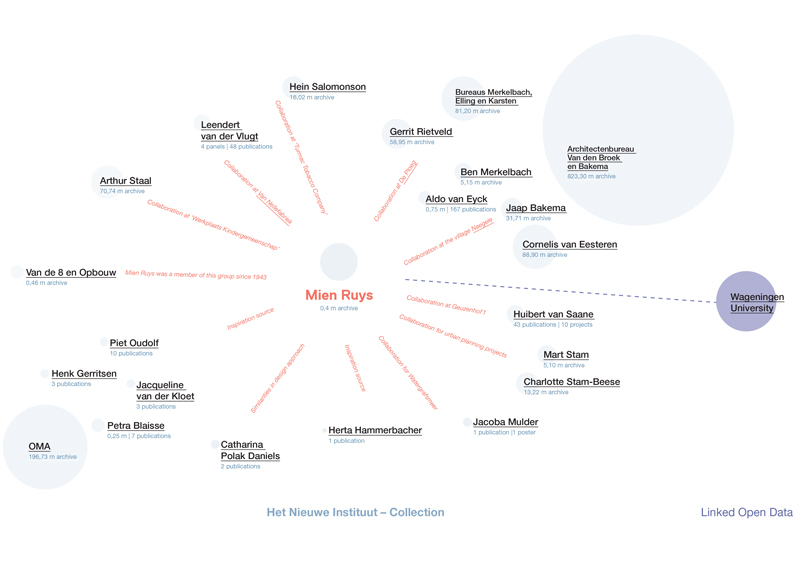 For Het Nieuwe Instituut (Rotterdam, NL), I developed a storyline based on Systematic Storytelling for their new collection platform. The goal is to encourage users to discover the complex National Collection for Dutch Architecture and Urban Planning in an experimental way.

Developing a storyline included ideas on how to address different user profiles. I also made concept sketches of wireframes showing the complexity of the overarching story and possible filters (data-, user-, experimental navigation, search). In addition I wrote all user stories, prepared a gap analysis and created templates and guidelines for the compilation of content.

The storyline and user stories were used as part of the briefing for the UI/UX designers and developers and as the starting point for the design of the user interface. Together with an editorial team from Het Nieuwe Instituut, I accompany the design and development up to the launch of the web platform (MVP).
Systematic Storytelling

Systematic Storytelling is an information design method that combines systems design and storytelling in order to meet a variety of user needs.
It is predestined for communicating storylines of high complexity:
– huge amount of data/material
– different narrative formats
– large time frame
– broad geographic scope
– nonlinear reading
– broad target group
– tools for involving users
– experimental navigation
…

Systematic Storytelling helps to build a system that makes complex relationships and connections accessible in an optimal and efficient way. It merges data-oriented, user-oriented, and story-oriented navigation into a 'narrative system'. The focus lies on the content-related, narrative relationships between different parts in the system rather than on the individual parts.

Systematic Storytelling can be customised for a specific content, for example, from journalism, science or museum- and archive collections. The method can be used on digital applications (web platform, app, search engine, tool,..) and for print.

Systematic Storytelling can provide improvements in the following areas:
– improving the overal user-experience
– disclosing 'all' relevant information, including archived data
– improving navigation (overview, compass,…)
– applying inclusive design methods
– amplifying a user-centred approach
– motivating users to participate
– offering functions for remixing content
– optimising the maintainance of web platforms/digital applications
– introducing guidelines for maintainance and update

The method can be used for building up a new system from scratch or for improving an existing one.
If you want to tell a complex story on a web platform, an app or in a publication, Systematic Storytelling can help to present it in the most effective and comprehensible way.
If you are interested in how Systematic Storytelling could improve your project, please contact me:
Gerlinde Schuller
studio(at)theworldasflatland.net