I gave a presentation on how to communicate an infinite narrative, at the Conference Disclosing Future – Rethinking Heritage.
Taking my research project The Infinite Narrative as starting point, I described how complex stories can be effectively communicated and increase user engagement. During this research I developed the method Systematic Storytelling, a synthesis of systems design and storytelling.
It can facilitate and enrich the communication of complicated, multi-layered contents. Therefore, it merges data-oriented, user-oriented, and story-oriented navigation into a 'narrative system'.
Systematic Storytelling is predestined for communicating storylines of high complexity, as they are found in investigative journalism, museum- and archive collections.

Disclosing Futures – Rethinking Heritage
Conference at Het Nieuwe Instituut, Rotterdam (NL)
on 2./3. November 2022
Heritage innovates. It does this partly through technological progress, but mainly by questioning current practice. A collection is not a neutral representation of the past, but acquires meaning through interactions with, and interpretations of, new generations of users. This means that heritage must, by definition, be future-oriented. At the conference Disclosing Futures – Rethinking Heritage, we discussed the reorientation of the role of heritage, and innovation as a condition for sustainable collection management.
At the conference the MVP of the new collection platform of Het Nieuwe Instituut The Other Interface was launched.
I developed the storyline for The Other Interface on the principles of Systematic Storytelling.
The first version of the platform shows the design and main functions. In the coming months and years, the platform will be refined and expanded.
The project team consisted of: Linked by Air, Triply, Lifely, Gerlinde Schuller, Loïs Hutubessy, Mark van Hoorn, Ernst des Bouvrie, Gijs Broos and Eline De Graaf.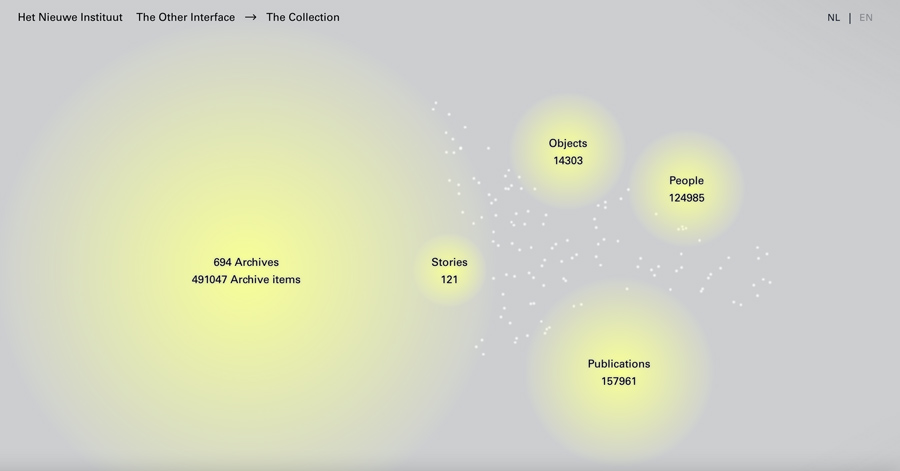 The Other Interface – Collection Platform of Het Nieuwe Instituut, Rotterdam (NL)